Meet the Corrective Healthcare Team
Dr. Olivier Abtan, Chiropractor
Dr. Olivier Abtan is passionate about helping his patients achieve their optimal health. He understands the needs and concerns of patients as he was once a patient himself. As a student research assistant at the University of Toronto his life took an abrupt detour when he was struck by an SUV as a pedestrian. His journey towards chiropractic began following surgery and treatment for multiple injuries. More about Dr. Abtan»
Dr. Saiera Alam, Chiropractor
Dr. Alam believes it is important to incorporate up-to-date, evidence-based knowledge to provide safe and effective treatments that is individualized for her patients. She enjoys works in a partnership with her patients to improve their health and well-being. More about Dr. Alam»
Dr. Sophia Ma, Naturopathic Doctor
Dr. Ma or Dr. Sophie, as some patients affectionately call her, is a licensed naturopathic doctor (ND). As an ND she combines the use of traditional therapies with modern medicine. Using her training in nutrition, acupuncture and herbal medicine, Dr. Ma can tailor your treatment plan to address your health needs. More about Dr. Ma»
Lydia Koduah Grindley, Registered Massage Therapist
Lydia Koduah Grindley, RMT is recent Grad of the Royal Canadian College of Massage Therapy, completing 2200 hours of in class and clinical practice she brings a list of experience for various treatments. She trained very closely with the founder of her school and mentor in area of sports/injury, sprains/strains and various elements such as whiplash, scoliosis, hemiplegia, frozen shoulder, plantar fasciitis, kyphosis etc. Lydia also has experience in specialize massage such as hydro healing hot stone massage, aroma therapy, Acu-cupping and deep tissue massage.
Archna Paterson, Registered Massage Therapist
Ilan Krishnamurthy, Resident Physiotherapist
Ilan has joined our team and is registered as a resident with the Ontario College of Physiotherapists and holds a Bachelor of Physiotherapy (2006). He has years of experience in treating a wide range of musculoskeletal, sport, motor vehicle accident and WSIB injuries with manual therapy, modalities, bracing, individualized exercise and rehabilitation programs. He believes that a combination of hands-on therapy, individualized exercises and providing patients with education to promote their own recovery is the key to success.
Andrea Goldberger, Registered Acupuncturist & Osteopath RAc DO(mp)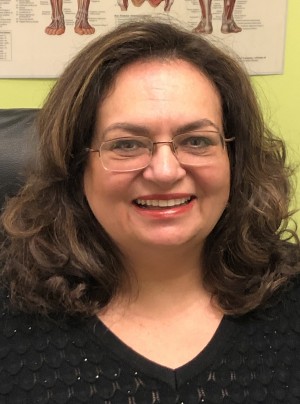 Andrea Goldberger is an expert in Acupuncture and Osteopathy. She is the recipient of the Canadian Public Health Contribution Award in 2014 for outstanding services within the field of Public Health. She believes in personalized treatments to improve, re-balance and maintain overall health and well-being by focusing on the root cause of disease and discomfort. As an Osteopathic Manual Practitioner, Andrea uses gentle manipulative techniques such as pulse, stretch and mobilization of muscles and soft tissues.
She has experience in treating migraines, TMJ, tinnitus, sciatica, low back and neck pain, pelvic floor dysfunction, shoulder and arm conditions, carpal tunnel and pregnancy related conditions. Andrea is a Registered Acupuncturist with the College of Traditional Chinese Medicine Practitioners and Acupuncturists of Ontario. She uses a Traditional Chinese Medicine approach to Acupuncture. She also offers as an alternative a no-needle acupuncture approach using Laser Light therapy.